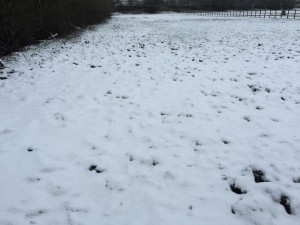 Today was doubly exciting for us because, not only did Fido's Fields have their first snow fall overnight, but we also made our way onto the large field.
We're setting up 4 fields in total (3 secure exercise fields and an agility field). Although we've been working on the first field and the agility field, we hadn't done any work on the other field. In fact, before today, we've only been on this other field once!
Today, we had to remove part of the existing fencing to create the pathway through to the other field. It was a great feeling and spectacular view to see the fresh snow.
Once we'd got our pathway, we worked through the snow, to start fencing putting the fencing in place. It was extra hard work because the fencing, tools and everything else we needed had to be carried a long way through the snow, to the bottom of the field. Typically, we'd get to the bottom of the field and realise we'd forgot something and then we'd have to trudge all the way back to get whatever it was we needed. At least the extra exercise kept us warm!
We're not quite ready to open yet, but we're starting to see things coming together now. At last, we feel like we're making progress and will keep you posted with news on our opening day.