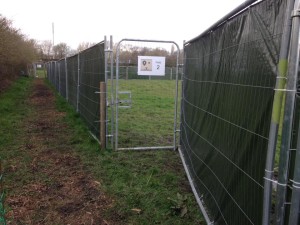 We are pleased to announce that all 3 of our secure fields are now open for bookings, as well as our dog agility training and practice field.
It feels as though it's taken us a long time (and a lot of hard work!) to get the whole area fenced and secure but we're happy with it and our dogs are loving it. We now hope you and your pooches will enjoy it too.
You can book the fields and agility area at whatever time of day suits you best because we're open from dawn until dusk. So, whether you prefer to exercise your pooches before work, after work, or during the day while the kids are in school, there's nothing to stop you getting some fresh air and having fun. If the kids want to come too, or you prefer to walk with your other half, all fields (except our agility field) have their own picnic bench so you can always bring a picnc along too.
All fields are secured with 2 metre fencing and each field has an individual gate for safe access. Privacy screens are fitted to each field private and secluded from the next. Our set-up offers peace of mind for anyone wanting to exercise and train their dog without interruption, as well as a safe and secure place to let reactive, nervous, or anxious dogs run free.
You'll find lots of information here, on our website, including prices, how to book, as well as details of our fields and agility equipment. If you can't find the answer to your question, just give us a call and we'll be happy to help.