Dogs have been a huge part of our lives for over 20 years. Like a lot of people, we don't see dogs as just pets, they're part of our family. We currently share our lives with 2 Boxers. Wrigley is our 5th Boxer and has recently been joined by his new playmate, Luna, who's Boxer number 6. Because they're such a big part of our lives, it's only fair that we inroduce them so they can have their say…
Wrigley
DOB – 23rd December 2014
'Gotcha Day' – 14th February 2015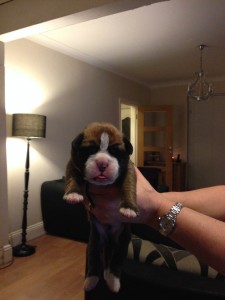 It was love at first sight the first time we met Wrigley, when he was just 10 days old. In fact, we fell in love with him from the very first photo we saw, before we'd even met him. He's got beautiful markings and a temperament to match.
He's a typical Boxer and loves to play – Forget 'prey drive', Wrigley is purely a 'PLAY drive' boy! He's also very affectionate and learns new things extremely quickly. Of course, this is good when we want to teach him a new trick or command, but not so good when he learned how to open the safety gate, just from watching us do it!
He's our first Boxer with a tail. Having had all docked Boxers previously, we weren't sure how long it would take to get used to a Boxer with a tail. His tail never stops wagging and is very strong (probably because of all that wagging exercise!) It does hurt when it whips at your legs, especially the backs of your legs when we're walking him, but we can't imagine a Boxer without a tail now.
Wrigley's been socialised a lot from the start and loves to play with his friends and to make new ones. He regularly goes to puppy parties and attends weekly training classes. Having completed his puppy foundation course, he passed his Kennel Club Canine Good Citizen Bronze when he was 9 months old and is now working towards his Silver. He also won last year's award for 'Most Improved Dog' at his training class, which was a massive accomplishment for him, especially considering how playful, giddy and boisterous he was in the beginning. Of course, he still is all those things, but he listems to us a lot more now and has learned some self conrol.
At the 2015 training class Xmas party, Wrigley was also 1 of only 2 dogs to return the sausage to his daddy (without eating it!) when he played 'Toss the Sausage'. We were absoulutely stunned when he did it, but that's another story!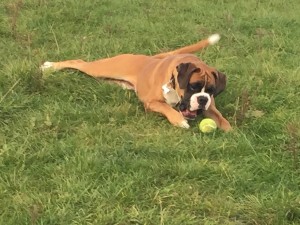 Fido's Fields are fantastic for Wrigley because he sometimes has selective hearing when it comes to recall. We've done a lot of recall training and he has improved, but this environment is perfect for him. Because the fields are secure, it takes away the worry of will he/won't he come back this time, which is always in the back of our minds after a couple of close calls when he's exercised off-lead in other places.
Wrigley's favourite toys are balls, especially tennis balls. You'll see Wrigley regularly chasing his tennis ball on Fido's Fields and he's our chief field tester, along with his best friend and 'sister' Luna….
Luna
DOB – 10th September 2015
'Gotcha Day' – 8th November 2015
Luna is the friend Wrigley desperately needed and is only the 2nd girl we've had. Aagin, it was love at first sight when we first met Luna at 2 weeks old. Her markings are very similar to Wrigley and, even though there's only 9 months between them, everyone assumes he's her dad.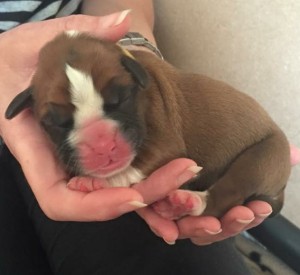 We couldn't wait to introduce her to Wrigley and she made herself at home instantly. She's definitely the boss (typical girl!) but Wrigley is so laid back that he doesnt seem to mind.
Luna loves to play. She loves squeaky toys but her favourite toy at the minute is Wrigley. She loves to jump on him, especially when he's trying to sleep and they spend hours rolling around and playing together.
Luna has just started her puppy foundation class and has been to a few puppy parties. She can regularly be seen waiting at the end of the tunnel on the agility course, ready to pounce on Wrigley when he comes out. She's just started going through the tunnel herself and loves to run and play in the fields. She joins Wrigley in testing out the fields and giving their wags of approval at the things we've been doing recently.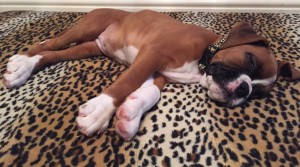 Partly because Luna is a young puppy and partly because she's a Boxer, she spends her time either racing round like a Lunatic, or fast asleep, with very little middle ground.
Fido's Fields give Luna the perfect opportunity to run around and burn off some energy in a safe environment. She loves to chase and fetch toys (not usually balls because Wrigley claims them before she can catch them), play with Wrigley, meet up with friends and enjoy a good run. It's great because she can do all this whilst we have peace of mind that she's safe to explore. we don't have to woryy, or chase after her when puppy inqusitiveness takes over. It's also the perfect place to work on Luna's recall and other training we're doing with her.